I've got some photos on my camera to upload that I think will be good for a blog post, but here's some filler nonsense for now.
Our cat provides us with endless joy and amusement. She is fat, sweet, and adorable. I am working on remedying the fat part, but she's always been a larger cat. Her coat is super glossy and soft since I switched her to grain-free food. Even more so now that I have her on a grain-free food with freeze-dried raw bits in it. Unfortunately, I'm fairly certain she's gaining weight with it too. I think 10 lbs would be a "fit" weight for her. She's about 12 right now, assuming she hasn't gained more than she lost last year when I brought her home (from living at my parents' house) and switched her food.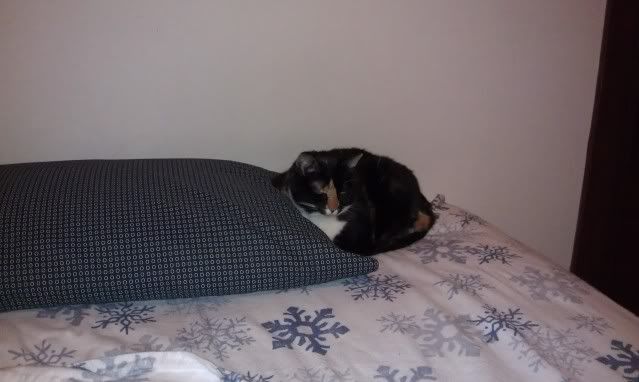 She's never slept like this before, but I caught her after changing the sheets.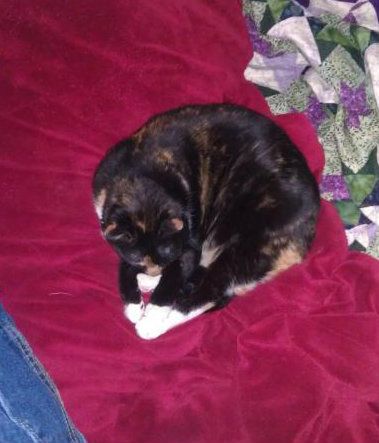 Being an adorable snuggle-bug on her/our favorite blanket.
I'm really happy with my Christmas presents. I feel like they get better every year. More and more, the gifts are things I didn't know I wanted/needed, or EXACTLY what I wanted/needed. Less extra, nothing unwanted.
Ravenclaw scarf = perfect blend of super soft & slightly scratchy 100% wool.
I'm giving my hair a break right now. My roots are at least 1/2" right now, which is usually when I bleach. It's been about 6 weeks since last bleach, 3 weeks since last dye. I might refresh the pink & the purple streak, but I'm going to wait another month before bleaching. I recently read about a method to remove/lighten unnatural hair colors using anti-dandruff shampoo and vitamin C powder (can use crushed vitamin C tablets, but I have powder). It's tempting to try this so I can use a new color (turquoise? blue?), but I don't want to damage my hair. I'm very pleased with the trim I got last month and how it's growing out right now. The texture is manageable and I think I will be able to grow it out to pony-tail length if I'm careful. This means I'm stuck with pinks and purples, however, to avoid further damage. That's not so bad.